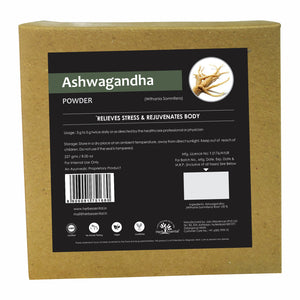 Ashwagandha (withania somnifera) is one of the most vital herbs in Ayurvedic healing and is used since ancient times for a wide variety of conditions, but ashwagandha is most well known for its restorative benefits. It is often referred to as "Indian Ginseng" because of its wonderful rejuvenating properties.
Net Contents : 227g / 1/2 lb / 8 ounces

Key Ingredient : Ashwagandha (withania somnifera) 100%

A Pure, Natural & traditional product as per Indian System of Ayurveda.Storage : Store in a cool & Dry place away from direct sunlight.

All our products are VEGAN & Paraben FREE. All our products undergo stringent human quality check at various stages to deliver best product.